Biden: Republicans playing 'Russian roulette' with US economy over deb…
Donald Trump's former press secretary Stephanie Grisham did not vote for him in the 2020 election, she has revealed.
Grisham, who also worked as the White House's east wing communications director and chief of staff to Melania Trump, said that she wished there was a different Republican candidate to vote for in last year's elections.
"Did you vote for Donald Trump in 2020?" CNN's Jake Tapper asked her yesterday. "I did not," Grisham said, adding that she filled in a different candidate but declined to show the person's identity.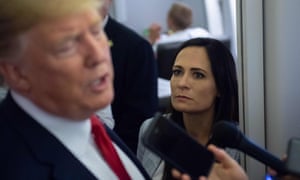 Grisham, who this released I'll Take Your Questions Now, a widely-trailed book about White House gossip and scandal during the disorganized Trump administration, has also warned of a possible re-run by the former president in 2024.
"He's on his revenge tour, for people who dared to vote for impeachment," she told ABC's Good Morning America on Monday. "And I want to just warn people that once he takes office if he were to win, he doesn't have to worry about re-election any more. He will be about revenge, he will probably have some pretty draconian policies."
Grisham's recent media appearances have received extensive attention, including criticism, particularly towards her prior popular position towards the Trump administration.
Don Winslow, an American author and political activist, tweeted on Wednesday, "Stephanie Grisham loved working with Donald Trump. She was honored to do so," referring to a past tweet made by Grisham on January 6, the day of the insurrection at the US Capitol by extremist Trump supporters, at the urging of the outgoing president, in which she praised the administration.
"Why are the press allowing her to rewrite history?", Winslow additional.
Wajahat Ali, a Daily Beast columnist, also condemned Grisham, tweeting: "So we have rehabilitated Stephanie Grisham who was part and parcel of Trump's grift and attack on democracy and did nothing to stop it and is now profiting off it? Good good. They all fall up in DC."


Click: See details