Liz Cheney mocks Trump over bizarre insult: 'I like Republican preside…
One of the less dignified spats in US politics has rumbled onwards as the Wyoming Republican Liz Cheney responded to a bizarre insult from Donald Trump.
"I like Republican presidents who win re-election," Cheney tweeted on Sunday, with a picture of George W Bush.
Bush beat John Kerry for re-election in 2004. Cheney's father, Dick Cheney, was vice-president to Bush.
Liz Cheney's tweet was a response to an image released by Trump on Thursday. Under the heading "ICYMI: Must-See Photo", a Trump-affiliated political action committee sent out a Photoshopped image which spliced Cheney Sr and George W Bush.
Trump displayed the image at a rally in Georgia on Saturday but he could not tweet it himself, as he remains barred from the platform for inciting the deadly assault on the US Capitol on 6 January.
In an interview with CBS's 60 Minutes later on Sunday, Liz Cheney said her reelection campaign as the most important House race in the nation as forces aligned with the former president try to unseat her. She voted to impeach Trump over his role in the 6 January riot at the US Capitol.
"I think it's going to be the most important House race in the country in 2022. And it will be one where people do have the opportunity to say, We want to stand for the Constitution,'" Cheney said. "A vote against me in this race, a vote for whomever Donald Trump has endorsed, is a vote for somebody who's willing to perpetuate the big lie, somebody who's willing to put allegiance to Trump above allegiance to the Constitution, absolutely."
Cheney also said she had been wrong about gay marriage, which she opposed ahead of a Senate race in 2013. Her objections caused a rift with her sister, Mary, a married lesbian. Mary's spouse, Heather Poe said Cheney's position was offensive and posted on Facebook that "I always thought freedom meant freedom for EVERYONE.".
Cheney told CBS: "I was wrong. I was wrong. It's a very personal issue – and very personal for my family. And my sister and I have had that conversation … Freedom method freedom for everybody."
While nevertheless opposed to gun control, abortion and the Affordable Care Act, or "Obamacare," the Wyoming congresswoman finds herself in a fierce battle for her seat in November 2022 for voting to impeach Trump after the Capitol riot.
Trump was then 14 days away from ceding the Oval Office to Joe Biden, who denied him a second term with a convincing election win. Trump has not conceded defeat.
At a rally near the White House on 6 January, Trump repeated lies about supposed electoral fraud and told supporters to "fight like hell" to overturn the consequence. Five people died in and around the ensuing invasion of Congress. More than 650 have been charged.
Cheney was one of 10 House Republicans to vote for Trump's impeachment over the attack – his second, rare among presidents – but because only seven Senate Republicans could be persuaded to vote to convict, Trump remains free to seek re-election.
Only one president – Grover Cleveland, a 19th-century Democrat – has won the White House again after losing a re-election bid.
Trump, however, remains the principal force in the Republican party, staging rallies, repeating his lies about electoral fraud, handing out endorsements, attacking enemies within the party and without and presiding over a growing campaign war chest.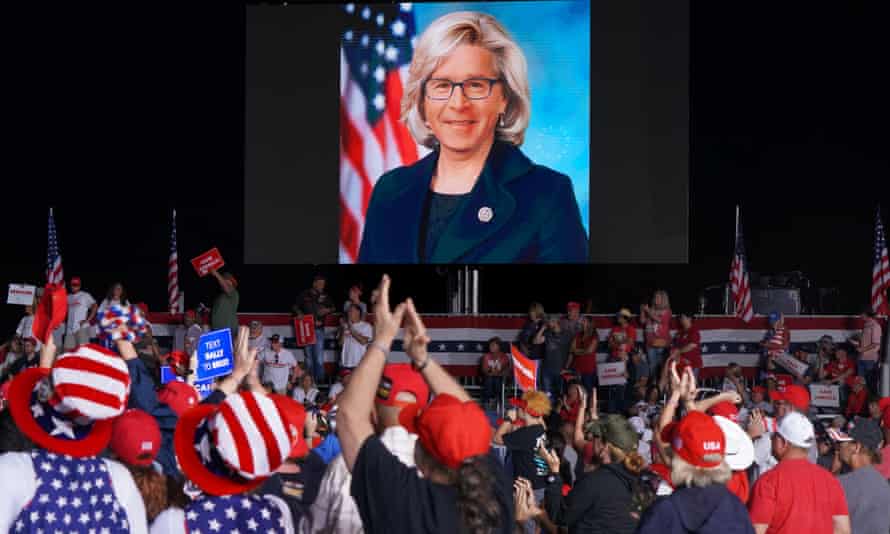 The spliced Bush-Cheney image was accompanied with a link for donations.
Cheney's response was lauded on Twitter by Meghan McCain, another daughter of a Republican formation figure attacked by Trump, in her case the late Arizona senator and presidential candidate John McCain.


Click: See details